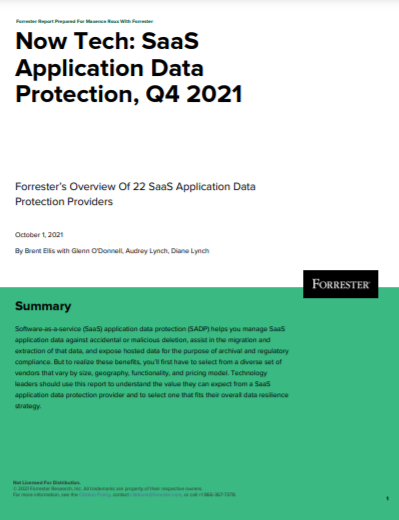 Forrester Report
Now Tech: SaaS Application Data Protection, Q4 2021

Authors:
Brent Ellis with Glenn O'Donnell, Audrey Lynch, Diane Lynch


Understand your options to protect your mission-critical SaaS data
SaaS data protection providers help you with much more than backup. The right data platform will support extraction, archiving, compliance, and more. But to find the best partner, you'll have to sort through a lot of options. This free Forrester report will help you understand the value you can expect from your data protection provider and make sense of your options.


Report Takeaways:
What SaaS data protection providers offer

A breakdown of vendors by size, functionality, and offering

Guidance on choosing the right partner for your business

Data success starts here
The Odaseva platform is designed to help large-scale Salesforce customers excel at all three disciplines of Salesforce data management.

About Odaseva
Odaseva is the leading Enterprise Data Platform for Salesforce, offering powerful tools to keep Salesforce data protected, compliant, and agile. Industry leaders like Schneider Electric and Manulife rely on Odaseva to ensure business continuity, respect customers and regulators, and move Salesforce data to any system—with the strongest security, performance, and expertise available. Learn more at odaseva.com.