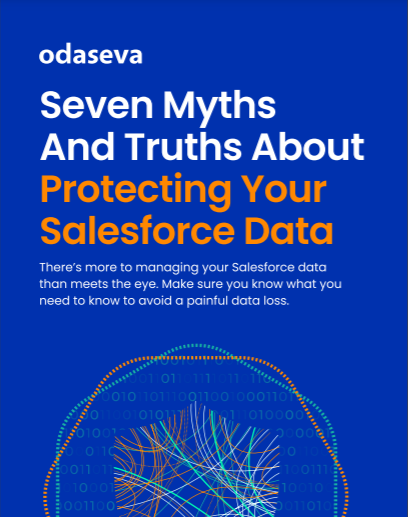 eBook
Seven Myths and Truths about Protecting your Salesforce Data
There's More to Managing your Salesforce Data than Meets the Eye
Make sure you know what you
need to know to avoid a painful data loss
The Salesforce platform has grown far beyond its roots as a CRM. But while Salesforce has changed immensely, many of the assumptions technical and business leaders have about the data flowing through their Salesforce orgs have stayed the same.
This eBook will provide a list of the top misconceptions and the truths that anyone who values Salesforce data should know, including:
Myth #1: My Salesforce data is in
the cloud, so it's always protected. Is it though?
Myth #3: Fully backing up a Salesforce org is easy to do. Is anything easy?
Myth #6: As long as my Salesforce data is backed up somewhere, it will be easy to restore. Right...
Data success starts here
The Odaseva platform is designed to help large-scale Salesforce customers excel at all three disciplines of Salesforce data management.

About Odaseva
Odaseva is the leading Enterprise Data Platform for Salesforce, offering powerful tools to keep Salesforce data protected, compliant, and agile. Industry leaders like Schneider Electric and Manulife rely on Odaseva to ensure business continuity, respect customers and regulators, and move Salesforce data to any system—with the strongest security, performance, and expertise available. Learn more at odaseva.com.