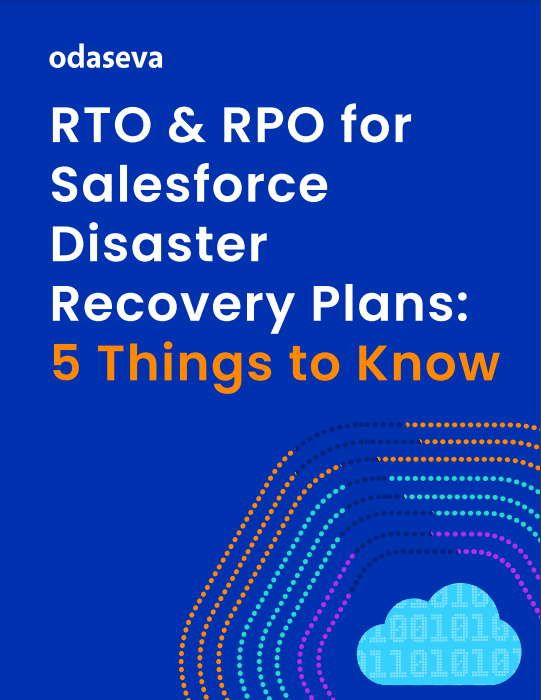 eBook
RTO & RPO for Salesforce Disaster Recovery Plans: 5 Things to Know
What does each hour of downtime cost your business?
Having a reliable disaster recovery plan is crucial for businesses of all sizes. This is especially true for enterprises that rely on SaaS platforms like Salesforce to manage business data and power mission-critical operations.

There is a risk of data loss or corruption when using any software, and Salesforce is no exception. To ensure business continuity if such a disaster strikes, enterprises must have an effective disaster recovery plan in place.

This eBook focuses on two key metrics that enterprises must define when developing a disaster recovery plan, Recovery Time Objective (RTO) and Recovery Point Objective (RPO).
Get it now to:
Learn more about RTO and RPO
The five considerations specific to enterprises running on Salesforce
What to look for when choosing a solution that will help your organization develop an effective disaster recovery plan
Data success starts here
The Odaseva platform is designed to help large-scale Salesforce customers excel at all four disciplines of Salesforce data management.

About Odaseva
Odaseva is the leading Enterprise Data Platform for Salesforce, offering powerful tools to keep Salesforce data protected, compliant, and agile. Industry leaders like Schneider Electric and Manulife rely on Odaseva to ensure business continuity, respect customers and regulators, and move Salesforce data to any system—with the strongest security, performance, and expertise available. Learn more at odaseva.com.