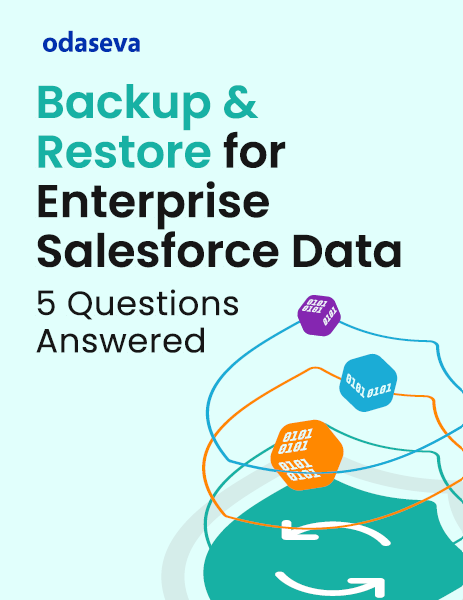 eBook
Backup & Restore for
Enterprise Salesforce Data
5 Common Questions Answered
If Salesforce data is important to your organization, then you must have an effective backup plan in place.
Salesforce data can be tricky to restore, especially at enterprise scale because of Large Data Volumes, complex data models, sophisticated integrations, regulatory requirements, and more.

If enterprises are not using a Salesforce backup and restore solution specifically designed for their requirements, they're at risk of failing to recover data. That can lead to catastrophic consequences from business interruption, to reputational damage, to expensive fines.

Download this eBook to get answers to five common questions about backing up and
restoring enterprise Salesforce data.
Data success starts here
The Odaseva platform is designed to help large-scale Salesforce customers excel at all three disciplines of Salesforce data management.

About Odaseva
Odaseva is the leading Enterprise Data Platform for Salesforce, offering powerful tools to keep Salesforce data protected, compliant, and agile. Industry leaders like Schneider Electric and Manulife rely on Odaseva to ensure business continuity, respect customers and regulators, and move Salesforce data to any system—with the strongest security, performance, and expertise available. Learn more at odaseva.com.