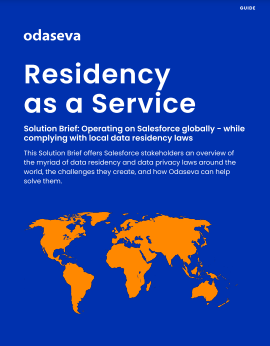 Solution Brief
Residency as a Service:
Operating on Salesforce globally - while complying with local data residency laws
New data regulations pose challenges on how businesses store, process, and manage data
Dozens of regions across the world have introduced laws that restrict the flow of data. Europe has GDPR. China enacted the Data Security Law (DSL) and Personal Information Protection Law (PIPL). India, Australia, and many other countries have rules that require data localization.

New regulations are moving much faster, which means organizations must have an agile approach to compliance so they're prepared when new laws go into effect.

This Solution Brief offers Salesforce stakeholders an overview of the myriad of data residency and data privacy laws, the challenges they create, and how Odaseva can help solve them.
Download this Solution Brief to learn:
How to comply with data residency laws while running a global business on Salesforce

How to manage data residency regulations on a single instance or multi-instance Salesforce instance

Odaseva Residency-as-a-Service Advantages

Download the Solution Brief
Data success starts here
The Odaseva platform is designed to help large-scale Salesforce customers excel at all three disciplines of Salesforce data management.

About Odaseva
Odaseva is the leading Enterprise Data Platform for Salesforce, offering powerful tools to keep Salesforce data protected, compliant, and agile. Industry leaders like Schneider Electric and Manulife rely on Odaseva to ensure business continuity, respect customers and regulators, and move Salesforce data to any system—with the strongest security, performance, and expertise available. Learn more at odaseva.com.