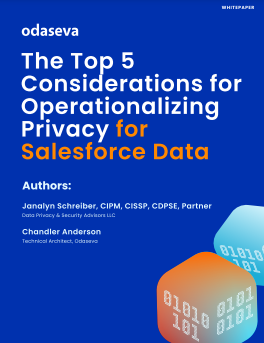 Whitepaper
The Top 5
Considerations for
Operationalizing
Privacy for
Salesforce Data

Fitting privacy into a broader data strategy to keep up with new privacy legislation.
As enterprise customers scale up their Salesforce data across multiple orgs, they not only have to think about the security of that data, but also understand the privacy
implications of their data strategy. This understanding is essential to complying with data regulations.

This whitepaper provides the top 5 considerations for operationalizing privacy, breaking them down into the privacy angle and the Salesforce implication - plus specific tips for success.
Key Takeaways:
Top privacy considerations for managing Salesforce data
How to operationalize to comply with new privacy developments
How to fit privacy into a broader data strategy
Data success starts here
The Odaseva platform is designed to help large-scale Salesforce customers excel at all three disciplines of Salesforce data management.

About Odaseva
Odaseva is the leading Enterprise Data Platform for Salesforce, offering powerful tools to keep Salesforce data protected, compliant, and agile. Industry leaders like Schneider Electric and Manulife rely on Odaseva to ensure business continuity, respect customers and regulators, and move Salesforce data to any system—with the strongest security, performance, and expertise available. Learn more at odaseva.com.