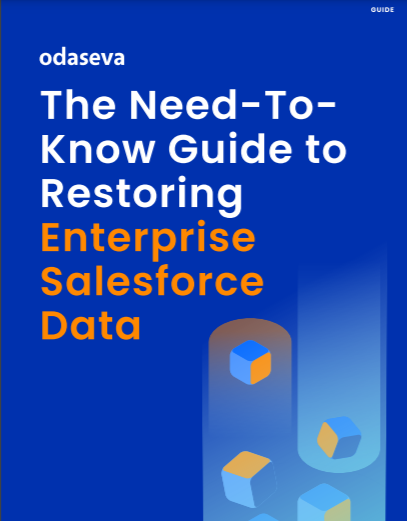 Guide
The Need-To-Know Guide to Restoring Enterprise Salesforce Data
Restoring large volumes of complex data is challenging. Make sure you're ready.
In the enterprise, simply having data backed up isn't enough. You need to be ready to restore it in the event of a data loss.

Many Salesforce professionals don't fully understand the challenge of restoring data until they need to do it. Getting caught unprepared can result in a slow, painful recovery.

Key Takeaways:
The importance of granular controls when restoring enterprise Salesforce data

Why deeply knowing your data—and your limits is so important

Understanding of why people are as important as technology

Significant restore blockers

Data success starts here
The Odaseva platform is designed to help large-scale Salesforce customers excel at all three disciplines of Salesforce data management.

About Odaseva
Odaseva is the leading Enterprise Data Platform for Salesforce, offering powerful tools to keep Salesforce data protected, compliant, and agile. Industry leaders like Schneider Electric and Manulife rely on Odaseva to ensure business continuity, respect customers and regulators, and move Salesforce data to any system—with the strongest security, performance, and expertise available. Learn more at odaseva.com.