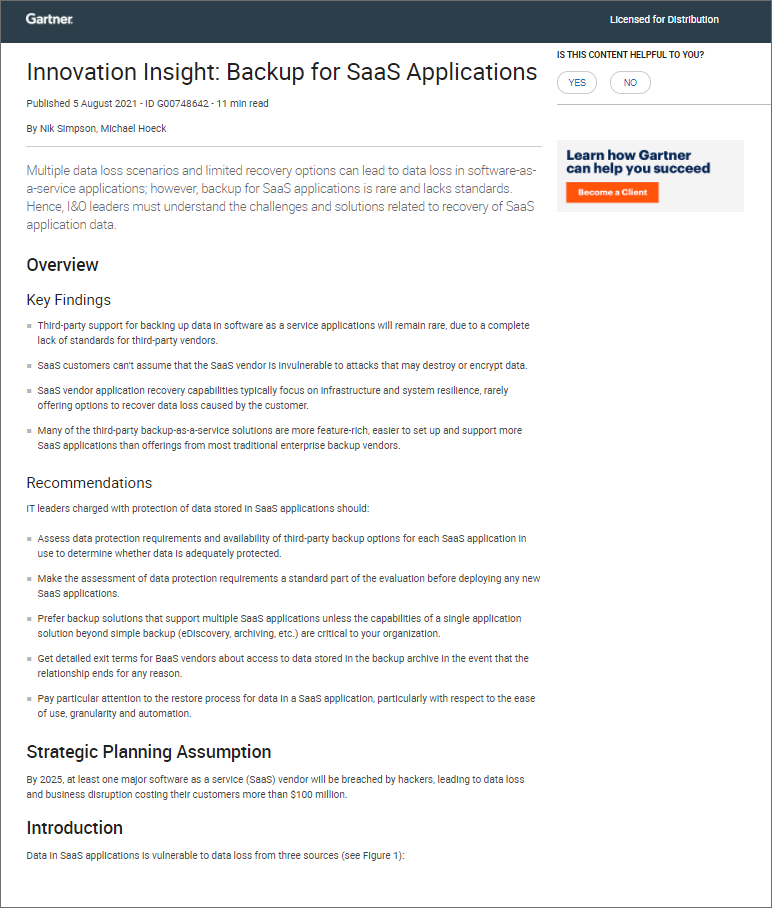 Gartner Report
Innovation Insight: Backup for SaaS Applications

By Analyst(s): Nik Simpson, Michael Hoeck

If SaaS data is important to your business, this is a must-read.
Technology teams commonly assume SaaS providers are responsible for protecting their data. That's almost always wrong. Typical SaaS SLAs make it clear that data is the customer's responsibility. This report offers a clear breakdown of the threats to SaaS data and how IT leaders should respond.
Report Takeaways:
Why you should never assume SaaS data is protected

What steps IT leaders should take to protect their data

Why your backup approach might actually prevent you from restoring data

Gartner, Innovation Insight: Backup for SaaS Applications, Nik Simpson, Michael Hoeck, 5 August 2021.
GARTNER is a registered trademark and service mark of Gartner, Inc. and/or its affiliates in the U.S. and internationally and is used herein with permission. All rights reserved.
Data success starts here
The Odaseva platform is designed to help large-scale Salesforce customers excel at all three disciplines of Salesforce data management.

About Odaseva
Odaseva is the leading Enterprise Data Platform for Salesforce, offering powerful tools to keep Salesforce data protected, compliant, and agile. Industry leaders like Schneider Electric and Manulife rely on Odaseva to ensure business continuity, respect customers and regulators, and move Salesforce data to any system—with the strongest security, performance, and expertise available. Learn more at odaseva.com.