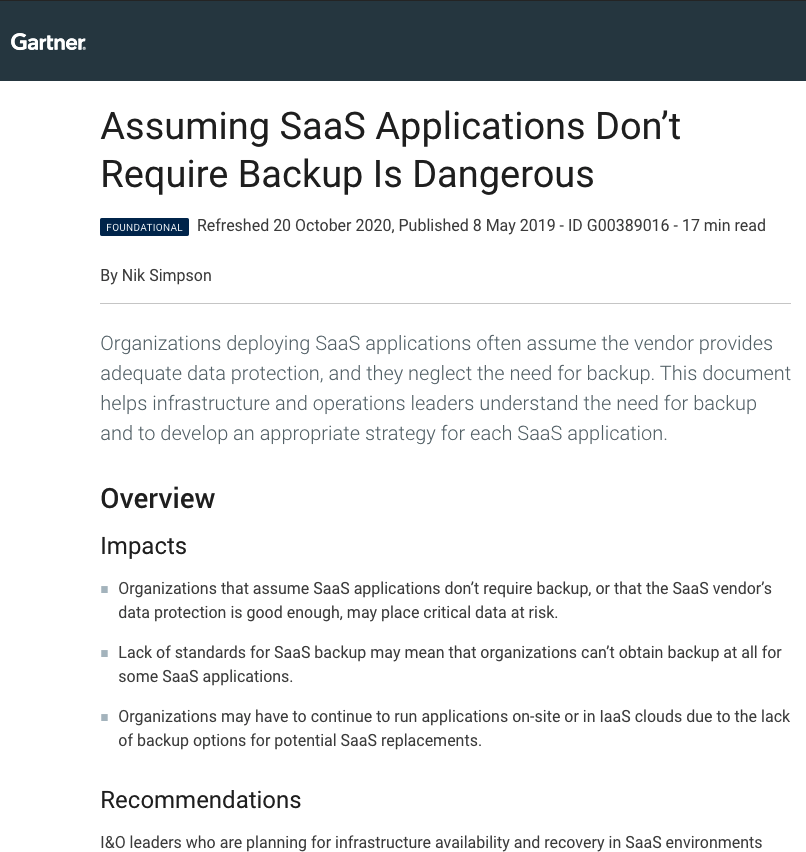 Gartner Report
Assuming SaaS Applications Don't Require Backup Is Dangerous
Author:
Nik Simpson, VP Analyst, Gartner

Discover Top Insights For Infrastructure & Operations Leaders
Organizations deploying SaaS applications often assume the vendor provides adequate data protection, and they neglect the need for backup. This document helps infrastructure and operations leaders understand the need for backup and to develop an appropriate strategy for each SaaS application.
Report Takeaways:
Strategic Planning Assumption

Analysis

Impacts and Recommendations

Evidence
Data success starts here
The Odaseva platform is designed to help large-scale Salesforce customers excel at all three disciplines of Salesforce data management.

About Odaseva
Odaseva is the leading Enterprise Data Platform for Salesforce, offering powerful tools to keep Salesforce data protected, compliant, and agile. Industry leaders like Schneider Electric and Manulife rely on Odaseva to ensure business continuity, respect customers and regulators, and move Salesforce data to any system—with the strongest security, performance, and expertise available. Learn more at odaseva.com.