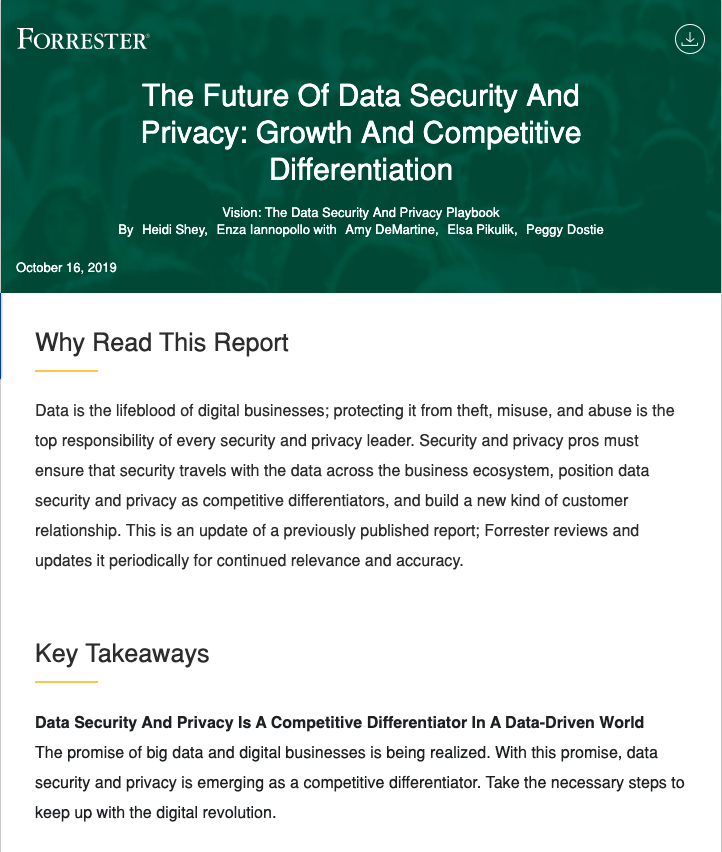 Forrester Report
The Future of Data Security and Privacy: Growth and Competitive Differentiation
Authors:
Authors: Heidi Shey, Enza Iannopollo with Amy DeMartine, Kate Pesa & Peggy Dostie

Data security and privacy is a competitive differentiator in a data-driven world
Data is the lifeblood of digital businesses; protecting it from theft, misuse, and abuse is the top responsibility of every security and privacy leader. Security and privacy pros must ensure that security travels with the data across the business ecosystem, position data security and privacy as competitive differentiators, and build a new kind of customer relationship. This is an update of a previously published report; Forrester reviews and updates it periodically for continued relevance and accuracy.
Report Takeaways:
Data Security And Privacy Is A Competitive Differentiator

Make Data Security And Privacy Your Ethics Building Blocks

Forrester's Data Security And Control Framework Builds Your Strategic Approach

Data success starts here
The Odaseva platform is designed to help large-scale Salesforce customers excel at all three disciplines of Salesforce data management.

About Odaseva
Odaseva is the leading Enterprise Data Platform for Salesforce, offering powerful tools to keep Salesforce data protected, compliant, and agile. Industry leaders like Schneider Electric and Manulife rely on Odaseva to ensure business continuity, respect customers and regulators, and move Salesforce data to any system—with the strongest security, performance, and expertise available. Learn more at odaseva.com.