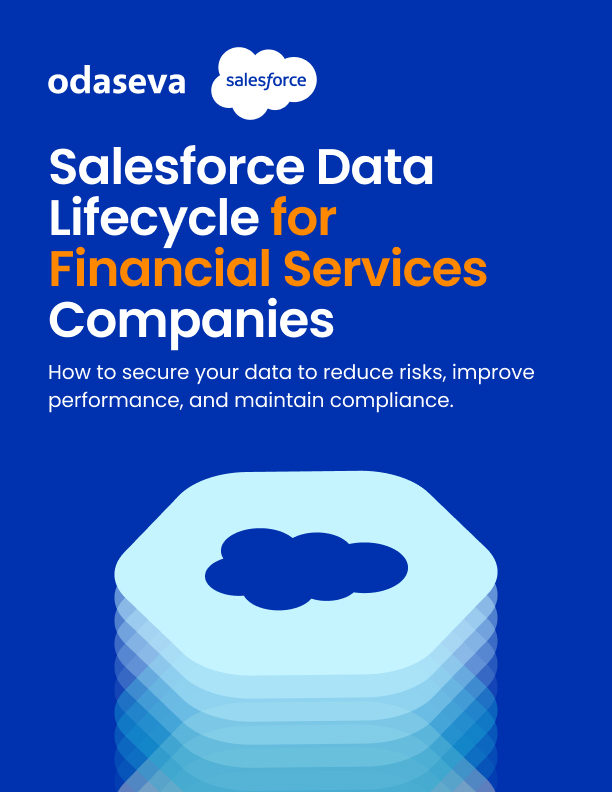 eBook
Salesforce Data Lifecycle for Financial Services Companies:
How to secure your data to reduce risks, improve performance, and maintain compliance
Data management is the key to unlocking the potential of Salesforce
Financial Services organizations are increasingly leveraging Salesforce for much more than just customer relationship management.

Not only does this associated data have a high degree of complexity, it also must be secure, agile, and compliant with regulations. Salesforce architects and product owners at financial services institutions need to apply the foundational principles of data management to fully deliver on the promise of Salesforce.

This eBook explains:
What makes financial services data so complex

How to reduce risks to prevent problems and recover quickly

How to improve performance to achieve fast customer service, user experiences, and developer environments

Data success starts here
The Odaseva platform is designed to help large-scale Salesforce customers excel at all three disciplines of Salesforce data management.

About Odaseva
Odaseva is the leading Enterprise Data Platform for Salesforce, offering powerful tools to keep Salesforce data protected, compliant, and agile. Industry leaders like Schneider Electric and Manulife rely on Odaseva to ensure business continuity, respect customers and regulators, and move Salesforce data to any system—with the strongest security, performance, and expertise available. Learn more at odaseva.com.