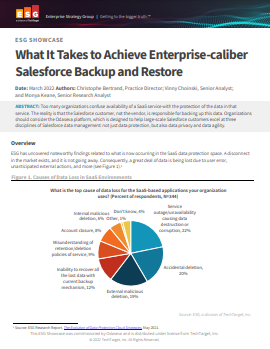 ESG Showcase Report
What It Takes to Achieve Enterprise-caliber Salesforce Backup and Restore
How to identify the critical factors in selecting a data protection and data management solution.
Complex data management challenges continue to emerge as the world's largest enterprises scale up their adoption of Salesforce.

One particularly complex challenge is protecting Salesforce data with enterprise-grade backup and restore. Not all backup and restore solutions are equal, and the right partner can help organizations avoid business continuity headaches…or catastrophes.

ESG covers this topic in a new report, "ESG Research: What it Takes to Achieve Enterprise-caliber Salesforce Backup and Restore."
Download this Report to learn about best practices, including:
Why a sophisticated platform like Salesforce demands sophisticated protection
What to consider when it comes to meeting RPO and RTO objectives
What intelligent data management means for enterprise Salesforce environments
Download the Solution Brief
Data success starts here
The Odaseva platform is designed to help large-scale Salesforce customers excel at all three disciplines of Salesforce data management.

About Odaseva
Odaseva is the leading Enterprise Data Platform for Salesforce, offering powerful tools to keep Salesforce data protected, compliant, and agile. Industry leaders like Schneider Electric and Manulife rely on Odaseva to ensure business continuity, respect customers and regulators, and move Salesforce data to any system—with the strongest security, performance, and expertise available. Learn more at odaseva.com.