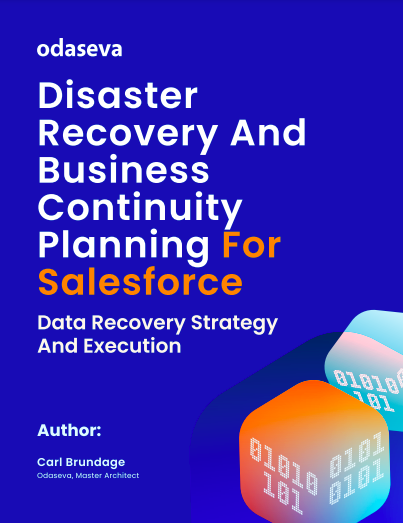 eBook
Disaster Recovery And Business Continuity Planning For Salesforce
Author:
Carl Brundage, CTA, Master Architect at Odaseva
What is your data recovery strategy and execution strategy?
A data recovery strategy as part of your business continuity plan helps protect the confidentiality, integrity, and availability of your data.
This eBook shows how to follow best practices including:
Defining business-critical applications and data
Identifying data recovery solutions and tasks
Communicating the plan throughout your company
Conducting ongoing training for employees
Reviewing and practice the plan regularly
"Companies big and small are creating huge volumes of data. Much of that data is critical to the continual operation of the business. The impact of corrupted or lost data from human error or system malfunction can be significant. Having an effective, tested plan for the backup and restoration of data is essential."

Carl Brundage, Master Architect
Odaseva
Data success starts here
The Odaseva platform is designed to help large-scale Salesforce customers excel at all three disciplines of Salesforce data management.

About Odaseva
Odaseva is the leading Enterprise Data Platform for Salesforce, offering powerful tools to keep Salesforce data protected, compliant, and agile. Industry leaders like Schneider Electric and Manulife rely on Odaseva to ensure business continuity, respect customers and regulators, and move Salesforce data to any system—with the strongest security, performance, and expertise available. Learn more at odaseva.com.